I rarely watch television.  But about a month ago I saw a thread on Facebook from a friend who suggested The Crown as a show to watch.  I've always had a love for the untold stories of historic figures.  Not to mention my recent trip to London had me fascinated with the monarchy.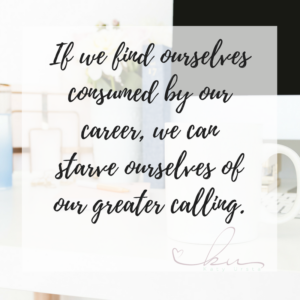 The events of the show are loosely based on Queen Elizabeth's earlier years as sovereign of England.  It captures the struggles of what it's like to be thrown into a role of power previously dominated by men.  Interestingly enough, before I watched the show, I knew very little of Her Majesty. Queen Elizabeth has been reigning for as long as I've been alive, and I know little of her character other than the presence she stoically  reveals to the public.  I've found her to be, a little quiet, traditional, and may I be so bold as to say, somewhat cold.  The show gives the audience a different perspective, a softer inside view of her reign and roles.  It made me start thinking of the business advice I give to my team.
Of course, I understand the show is dramatized, but I've found the essence of her transformation to be quite relatable.  You see Elizabeth became queen as a young woman, newly married, without much refined political education.  She internally battles between her role as wife, mother, sister and her duty as queen.  You watch as the gray areas of the roles fade into one another and her exterior shell, her grace, and her crown sometimes (more often than not) preside over her heart.  Her duty, her career, created her character.
Do you ever feel the same conflict? 
Do you ever feel like your own career is creating your character? More importantly are you proud of the person you are becoming?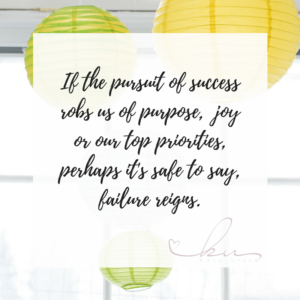 For a long time, the advice I've given entrepreneurs in the first steps of their career is to create a "thick skin." Like the queen, there's a clear discipline it takes to thicken one's skin.
Be ready for criticism.
Be firm in your beliefs and don't back down from your goals.
Do what it takes.
Hustle hard.
Be relentless.
Like many others, when I started my own business ventures, I was given the disapproving looks, the raised eyebrows and the well meaning advice of those who didn't quite understand.  I felt as though the world was waiting for me to fail.
Perhaps from the outside while my business was growing,
I developed the "thick skin."
I was relentless in the pursuit of "what set my soul on fire." 
Getting ahead became a passion. 
I was focused on the "must do".
Accolades were my armour. 
Action was my defense. 


I see that now.  I see that my exterior success I achieved was more of a weight than a win. Friend, I want you to win.  I want you succeed in your goals but not at the cost of what matters most.  You're better than that.  And you can achieve amazing success, that is defined, deep, and firmly rooted in what matters most to you. 
Success does develop a thick skin for criticism. No doubt about that.
But if the pursuit of success robs us of purpose,  joy or our top priorities, perhaps it's safe to say, failure reigns. 
Start by asking yourself these questions.
Work matters, but..
Does my work give me joy?
Do I know what what I am working towards?
Does my work create walls between myself and my top priorities?
Is my work reigning over my life?
Does my work go deeper than my pocketbook?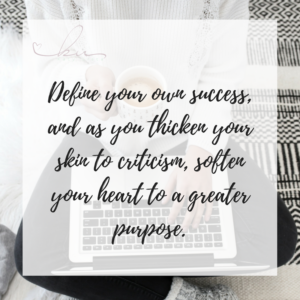 I think the trouble with creating that thick skin, is the gray area between the hustle and the calling.  Much like Her Majesty, there is an acquired skill to balancing our work and our priorities. It's a constant tug of war for attention.  It takes time to master the skill, and admittedly, I too am a work in progress.  My simple truth that I circle back to when my priorities feel off balance is this:
If we find ourselves consumed by our career, we can starve ourselves of our greater calling. 
My advice to entrepreneurs now is to be graciously driven towards your purpose.  But keep that purpose rooted in what really matters most to you.
Define your own success, and as you thicken your skin to criticism, soften your heart to a greater purpose.
Straighten your crown, friend.
I am rooting for you.
Looking to start your own lifestyle coaching business? Complete the form below.