Beachbody has launched their newest program, 80 Day Obsession with celebrity trainer, Autumn Calabrese. I will be honest, when I first heard the title, I was a little taken back by the word, "Obsession," – and although I think it can be taken to the extreme, for me, the plan is about making a commitment to become the best, healthiest version of yourself.
Click Here & Complete the Form to Get More Info on This Program!
Let's face it! When we take care of ourselves first, it impacts everyone else around us!
Your family, your friends, and everyone else around you will be happiest if YOU are happy and take some time to care for yourself. I've had the chance to check out 5 of these new workouts, and I
What can you transform most with a program like this? What could you gain from 80 days of intense focus and dedication?
Check out my blog post here on my review of this program for some basic information on the program.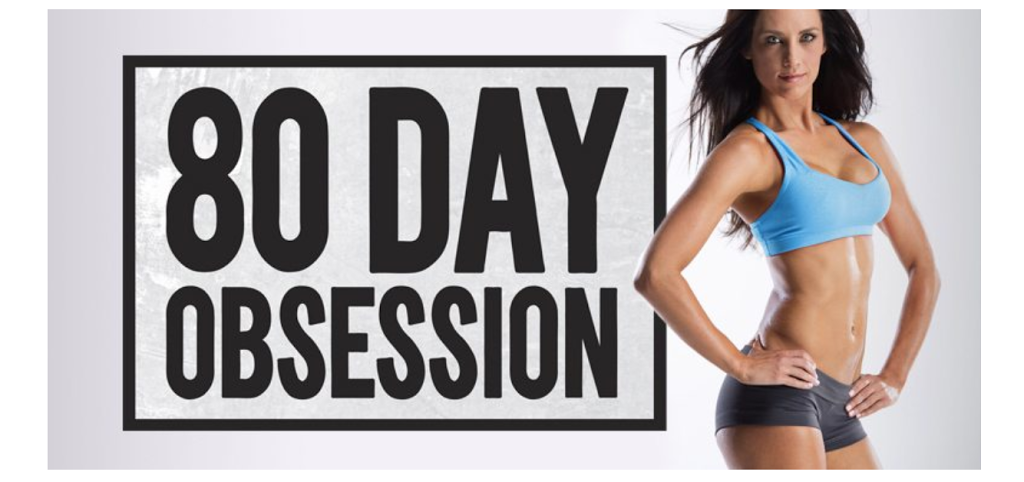 Here's a little reminder in case you forgot what the 80 Day Obsession is all about!
Autumn really breaks it down with this program. It focuses on your abs and booty, and let me tell you, IT WORKS! My little crack in the back is finally getting toned and firm!! Even if you have weight to lose you are going to shed lbs, build lean muscle and you are going to tone your entire body.
There are 3 phases of workouts over the course of 13 weeks. In total there are 97 days of workouts because you get Sundays off as a rest day.
The workouts range from 45-60 minutes, and as always, there is a modifier.
Autumn introduces timed nutrition, which is a macro-nutrient plan that is timed to produce amazing results. She walks you through the meal planning part and the fitness part of the journey. And as your coach, I will be there every step- right along with you!
My 80 Day Obsession Challenge Group will be starting workouts on January 15th. I'm going to help you out with the timed nutrition, designing meal plans, sticking with your workouts, troubleshooting, and focusing on YOURSELF!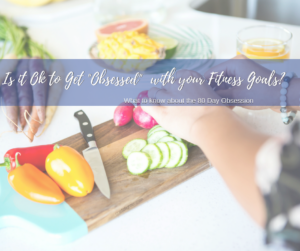 Fill out the application by CLICKING HERE or at the bottom of this post to RESERVE YOUR SPOT!
If you follow me on my Facebook or Instagram you know that I have been committed to a brand new fitness program that has not been released yet by Beachbody. 80 Day Obsession is a new program created by fitness expert Autumn Calabrese. Autumn Calabrese also created the 21 Day Fix, 21 Day Fix Extreme, Hammer and Chisel, Country Heat and more. I am currently in the Coach Test Group and I am on day 35 of the program. I can tell you that the results are going to blow your mind. The program officially launches in January of 2018. In the meantime I will be giving you the play by play on my Instagram and Facebook plus sharing my results here. You can also get prepped for the program by joining me in a "Prepare to be Obsessed" Facebook Accountability and Support Group.
Can I Have A Few More Details, Please?
This program is an effective, step-by-step approach to building a shaped, curvy butt while simultaneously shrinking your core. It's 80 days of focus on fitness and nutrition spread over 13 weeks.
Is it extreme?
YES!!! The workouts are intense and they average 45 minutes to an hour in length. The diet guidelines are every bit as demanding also. You will be following a professionally calibrated macro-nutrition plan perfectly timed to produce amazing results at each phase of the program.
Yes the program is intense and it is designed to help you get in the absolute best shape of your life. So it is really important that you follow the program to the T in order to get the results that you are expecting.
This program works your entire body but there are days specifically designed to work your butt, your legs, your core, arms and cardio. Each workout is different and we are doing the workouts in real time with Autumn Calabrese. In January 2018 when the program is released you will also be able to do the workouts in real time through Beachbody on Demand.
What Is The Nutrition Plan Like?
I can tell you that the nutrition plan follows the portion fix containers for measurements but it is totally different than the 21 day fix or other Beachbody programs. You are eating at specific times of the day and you have a pre and post workout meal. You can keep it basic and follow the meal plan or you can get fancy with your recipes. I honestly prefer to keep it as simple as possible.
One of my meals or snack is replaced with Shakeology, and I use the Beachbody Performance Line every single day.
I use the Energize pre-workout, the hydrate during workout drink during my workout, recovery post workout and recharge 30 minutes before bed at night. It truly is my saving grace.
I will say that it is worth every single penny of investment. I will be going into more detail with the meal plan in the next few weeks. The best part about the whole program is that you get to have a refeed day in which you get to have more carbs to refuel and jolt your body back into results. The first refeed happened at week 6!
Who is the 80 Day Obsession for?
This program is for anyone who wants to literally get strict with their nutrition and see how far they can go with results.
You do need to have a base level of fitness and an understanding of the portion fix and clean eating nutrition will help.
If you have more than 40 pounds to lose I suggest using the next few months to get within that 40 pound goal so that this program is the most effective for you.
This program is good for:
Those that want a leaner, firmer, more sculpted body
Women looking to add some curves WITHOUT bulking up
Anyone who wants more definition
Fitness fans looking for an intense, holistic workout that they can do at home
People who love a challenge!
The really good news is this! You have lots of time to get ready for 80 Day Obsession which is why I am hosting a "prepare to be obsessed" Facebook group to help you get your nutrition in check and your fitness up to speed.
PLEASE NOTE**
My job as a coach is to support you through the process and provide daily accountability and we work through this program together. My job is NOT to make you obsessed with your body but to help you focus on feeling your best.
This program will require a shift in mindset as we start seeing food as fuel.
I will not obsess over my body image but focus on preparing to look and feel my personal best.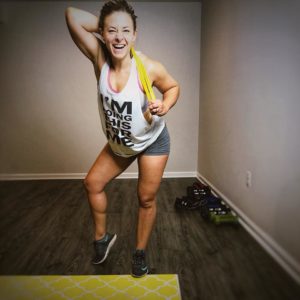 You will need bands, sliders, and weights for this workout!
What Can You Do to Prepare for the Program?
Take the next few weeks and join my challenge group and start building a solid foundation for fitness and nutrition and let me walk you through clean eating and exercise together!!
I am hosting a "PREPARE TO BE OBSESSED" Facebook Group where my goal is to walk you through goal setting, meal planning, daily preparation, motivation, consistency and accountability.
I will also be sharing tidbits of my 80 Day Obsession journey to help you get a head start on the results. Especially going into the holiday season when most people gain a good 10 pounds, you will be in control and rocking the results with confidence.
The program will launch on January 15th and a new workout will be posted each day for 80 days.
If you would like to be a part of my 80 Day Obsession Customer Beta Test Group please complete the application below to get on the list for all the details as the product is launched.
Want more details on this abs, butt and total body workout hit me up!! Apply below to stay up to date on the launch!
What Are The Package Options?
If you are a new customer…
Mega Challenge Pack (BEST VALUE)
The only way to get the best results is to feed your body with the best fuel you can give it. This challenge pack includes everything you need for the entire duration of the program – plus you save $275. I will be honest…. if you are wondering why you need the performance line- I will tell you this! You will be SORE, you will want to refuel with the Beachbody performance line because they are QUALITY supplements, they work amazing and they will give you FUEL before your workout and they will replenish afterwards to maximize your results! Definitely worth every single penny!
I have been drinking energize for the past 4 years every morning 15 minutes before I press play and it really does give me a nice little boost to be able to crush my workout without the jitters! After your workout, within an hour of finishing I will drink recover which helps to EASE sore muscles, replenish what I broke down during the intense workout and get ready for the next workout!!!
Shakeology on Home Direct
2 tubs of Energize
4 tubs of Recover
2 resistance bands
Sliders and booties
Portion Fix system
Shaker cup
Intro guide & calendar
1 year subscription to Beachbody on Demand which includes 80 Day Obsession program & all other Beachbody Fitness Programs & nutrition guides.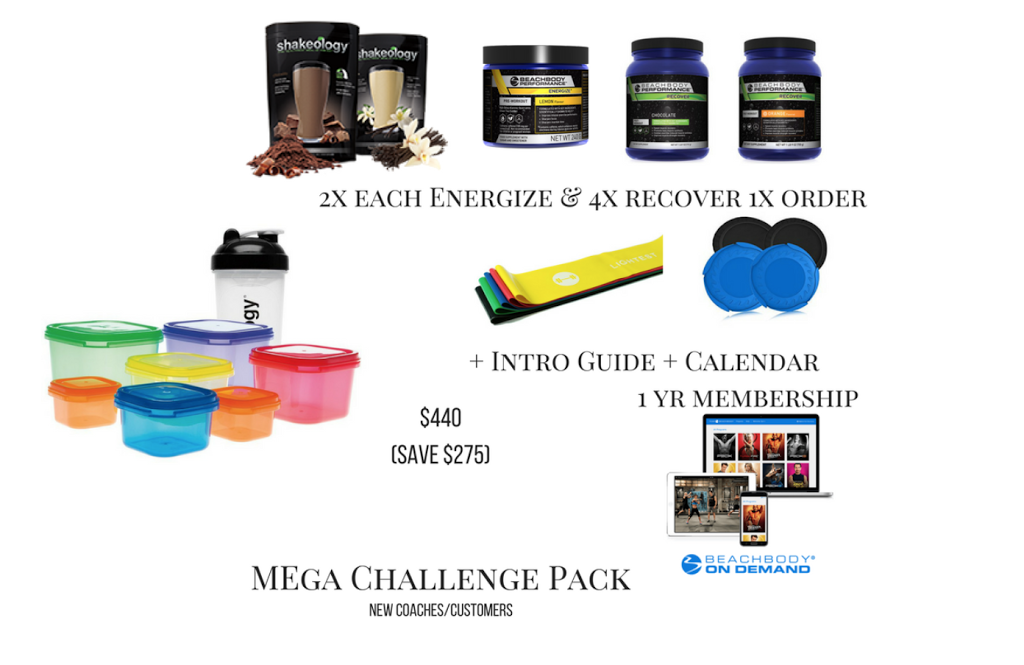 Combo Challenge Pack
Are you ready to get this party started? This challenge pack includes everything you need to start out the program. And you get to save $200! The difference is if you just want to try out energize and recover for the first time you get 1x orders vs. enough supplements for the entire program.
Shakeology on Home Direct
1 tub of Energize
1 tub of Recover
2 resistance bands
Sliders and booties
Portion Fix system
Shaker cup
Intro guide & calendar
1 year subscription to Beachbody on Demand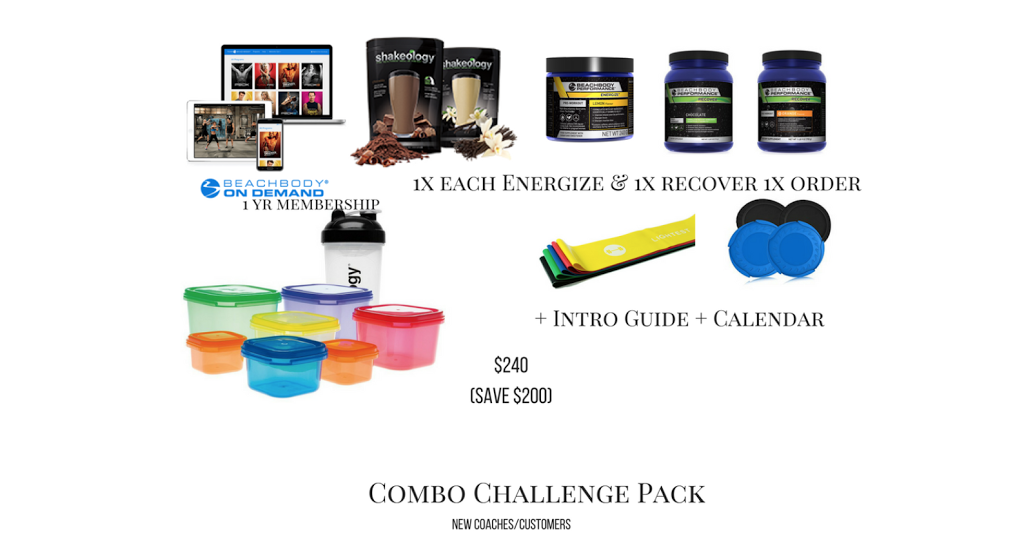 If you are a current customer…

Mega Completion PackThis is the mother of all packages! It seriously offers the best value. You get everything you need for the program (assuming you already have BOD) AND you save $205. If you are about to expire your Beachbody ON Demand or you don't have it—> Check the packages above!!!
Shakeology on Home Direct
2 tubs of Energize
4 tubs of Recover
2 resistance bands
Sliders and booties
Portion Fix system
Shaker cup
Intro guide & calendar
Combo Completion Pack
Are you ready to get re-engaged? Then this package is for you. Save $130 and get ready for 80 days of obsession!!
Complete the Form to Get More Info on This Program!
New Programs, Products, Posts
My company has FINALLY developed a program called 2B Mindset, which is a weight-loss program that focuses on emotional eating. It is a program that focuses first on the "Why" not the how, and focuses on those triggers. It's like #ESM and health and mindset collided in a HUGE beautiful way. Remember me chatting about the elimination plan? Man alive me and my fellow recovering yo-yo dieters, there is a solution. No counting, No containers, No awkward weigh ins. And it's a solution created by someone who has been there. A nutritionist with a 100 pound weight loss. A woman who gets it. I dig that.
Ever wish you could just "try on" a healthy lifestyle to see if it fits? Now you can with Clean Week Beachbody Trial Program, an exclusive Beachbody On Demand step-by-step 7-day nutrition and fitness program that gives you all the tools you need to start losing weight, getting in shape, and kick-starting healthy habits that last a lifetime.
Are your children picky eaters?
Like most recipes that have any green in them, my children turn up their noses. They are very picky eaters, so when we make these, we make them muffins with just egg & cheese, and then give them our certified organic Daily Sunshine Smoothie Kids Nutrition Shake, which they absolutely love, and it helps replace the veggies we removed from the eggs.