My company has FINALLY developed a program called 2B Mindset, which is a weight-loss program that focuses on emotional eating.  It is a program that focuses first on the "Why" not the how,  and focuses on those triggers.  It's like #ESM and health and mindset collided in a HUGE beautiful way.  Remember me chatting about the elimination plan?  Man alive me and my fellow recovering yo-yo dieters, there is a solution. No counting, No containers, No awkward weigh ins.  And it's a solution created by someone who has been there. A nutritionist with a 100 pound weight loss. A woman who gets it. I dig that.
Here is What Ilana Muhlstein Has To Say About the Creation of the Program:
"You see, I've always loved food and I love to eat large portions. What I needed was a diet that would let me eat and feel satisfied, while still helping me lose weight. There was no diet on the market like that…so I decided to create it myself. I not only invented a solution to solve my own weight problem, so I could lose 100 lbs, I made it my career as a Registered Dietitian Nutritionist—so I could help anyone lose weight happily and learn how to keep it off for good—and still go on living my life and enjoying the foods I love."
The system she created is a healthy approach to eating that lets you feel full and satisfied, while arming you with proven strategies that will help you co-exist with food in real-world situations, satisfy cravings, and anticipate setbacks before they happen — so you can WIN the weight-loss struggle every single time.
This is not a diet.  This is a mindset shift.
But make no mistake, the 2B Mindset can help you lose weight—happily—without feeling deprived or hungry, without counting calories or cutting out whole food groups. It addresses the #1 issue with weight loss and weight management —food.
Exercise is critical for living a healthy, functional life —but as they say, abs are made in the kitchen — and that's the problem I designed the 2B Mindset to solve.
What's The Best Part About This Weight-Loss Program?
The good news is, the 2B Mindset is simple to follow.
You will learn simple strategies to get you drinking more water, enjoying wholesome food and simple ways to prepare them. And I'll shatter the myth that the bathroom scale is your enemy — in fact, you're going to LOVE the scale, because it's going to become a powerful weight loss tool.
Ilana will also plug you into the ONE habit that is applied daily to put you in the mindset of successful weight loss.
What I love about the program is the emphasis on mindset.
Weightloss: Simple. Enjoyable. Sustainable. 
When Can I Enroll? 
 I'd love to share the 2B Mindset with you! I'll be introducing the entire program in a series of step-by-step videos. Just fill in your name and email address below, and we'll be sure you're up to date on the 2B Mindset.
Plus, I'll pass along some of my favorite tips and strategies for losing weight, including 5 secrets I teach my clients, to help them outsmart the urge to overeat.
Don't you want to BOTH love your body and love your life? That's what will happen with the 2B Mindset—together we can make it happen!
Who is the 2B Mindset For?
Anyone who wants to lose weight — happily — so they can keep it off for good!
Those frustrated with the deprivation of traditional diets.
People overwhelmed with all the weight-loss products/info out there.
Anyone challenged by junk-food cravings.
Those for whom other diets have not been successful in the past.
What Can You Do Until it is Available? 
As I prepare to become an ambassador of this new program, I am following a program called The Elimination Plan which is helping me shift my mindset so that I can become a successful ambassador of this new program.
The Elimination Plan will focus on healthy weightloss by focusing on the WHY of weight loss as opposed to the "how."  This plan focuses on wholesome nutrition with no processed foods and no added sugars.
I will be enrolling ELIMINATION Challengers the week of November 19th.  Complete the form below for more information!
You Can Follow Me on FB @onefitfighter or on IG Stories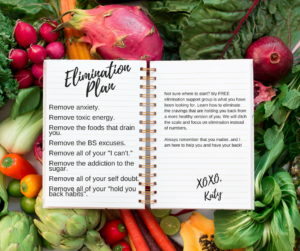 To Learn More about 2B Mindset and The Elimination Plan, complete the form below.